Roswell INFINITI Car Showroom Atlanta, GA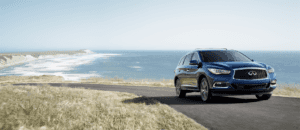 Owning your own INFINITI means you own luxury, power, and style—and you'll be surprised at how easy it is to enjoy it once you have it. But, before you own it, you have to decide you want it. And how do you decide you want it? Our models speak for themselves when it comes to their sleek appearance, recognizable wherever you drive it, but an INFINITI brings more to the table than just looks. In fact, what it gives you under the hood and in the interior might just be comparable. 
But don't take our word for it: experience it yourself at our showroom for INFINITIs in Atlanta, GA. 
Showroom INFINITI Atlanta, GA
So how are you going to get a chance to experience the luxury of driving an INFINITI yourself? At our INFINITI car showroom in Atlanta, GA, you can come see our various models and then take them out for a test drive.
You wouldn't expect someone to make any sort of big purchase without thoroughly researching and testing all the options, and we agree. That's why we offer test driving. We have models in our Q and QX series, including the Q50, Q60, QX50, QX60, QX80. 
The Q60 is our smallest sedan size, compact and quick, designed for people on the go. Enjoy a little more space in the Q50 model. Skip the sedan sizes entirely and opt for the SUV class QX50 or QX60, with more seating and storage as well as additional perks. 
The QX80 is our largest size, with room for the whole family and then some, while continually providing you with power and luxury unlike anything you've experienced before. 
Come to the showroom to see our inventory and to test drive your own INFINITI today. Contact us with any questions or to set up an appointment.