How to Buy or Service Your Car Amidst Social Distancing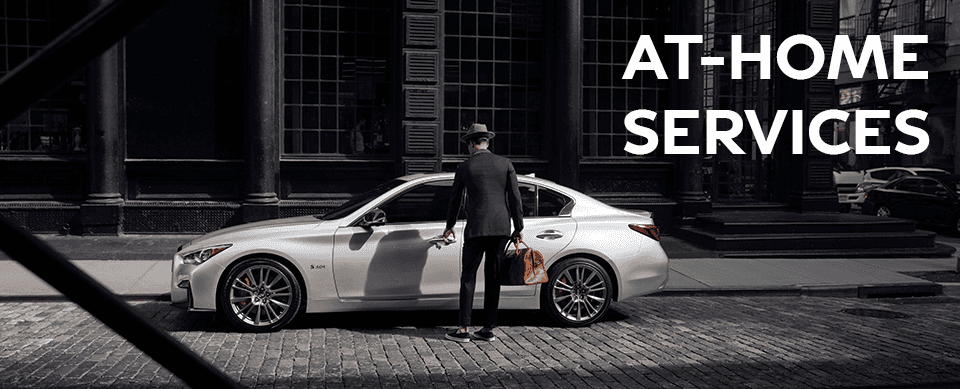 COVID-19 & Steps We're Taking
Roswell INFINITI is committed to doing everything we can to protect the health and well-being of our staff and our customers. We are waking up to an ever-changing landscape every day due to COVID-19 concerns, and we want you to know what steps we are taking to keep our facilities safe and our services more convenient and accessible for everyone.
In sales and service, we are disinfecting every vehicle before a guest enters it. Service technicians are required to wear a new set of gloves each time they touch a new vehicle. Loaner vehicles are also disinfected before and after use.
If any team member is exhibiting flu like symptoms, has been exposed to a COVID-19 patient, or has traveled to a high-impact area, they are prohibited from reporting to work without proper self-quarantine and a doctor's certification.
We have instructed our cleaning crew to sanitize all high-contact areas such as door handles, desks, rails, doorknobs, etc., daily. All employees are being urged to wash their hands frequently throughout the day and make every effort to maintain social distancing when possible.
If you live within 15 miles of Roswell INFINITI, we are offering at-home services. If you are in the market to purchase a new vehicle or looking to service your vehicle, we have convenient solutions for you. Take a look below for all the ways you can still service or buy a vehicle.
Service Valet
If you would like to schedule your vehicle for service but would feel more comfortable staying at home, call or go online and schedule your appointment for a service valet appointment. We will send one of our valets out in a sanitized loaner vehicle to be dropped off with you and pick up your vehicle. We will bring your vehicle back to the dealership, perform the service and then drive it back out to you and swap vehicles.
Virtual Vehicle Demos
The great thing about being in the market this day and age is we can leverage technology to give you a full vehicle demo without having to step foot in the dealership. Our product specialists can facilitate a digital demo/walk-around of your vehicle(s) of interest. This can be done via FaceTime, Skype, or other video chat services. If a live video chat is not possible or preferred, we can send the video to you by other means. This will allow you to see everything about the vehicle, interior and exterior and whatever is important to you.
Offsite Demos & Test Drives
We understand that getting hands on with the vehicle and test driving is an essential part of buying a car for most people. However, with many people practicing social distancing the typical dealership visit seams nearly impossible. That is why when you schedule your appointment and request an offsite test drive, we can sanitize the vehicle and bring it to you to experience and drive in person.
Payment Calculators & Online Finance Application
Roswell INFINITI makes it super easy to estimate what your payments would be on any vehicle in our inventory. These payment calculators can be found underneath each vehicle listing page for easy access or directly here. If you would like to move forward with putting together your deal, you can access our online finance application and submit your information securely to our finance team.
Remote Trade Appraisals
If you have a vehicle you are thinking of trading in, you can use our online trade in tool to get a close estimate of its value. If you would like a more precise number, one of our product specialists can reach out to you via text or phone and gather some additional information about your trade in. Our dedicated buyer can provide a more exact quote based on this information.
Remote Deal Walk-Through
Once you've made it this far, your product specialist can work out all the finer details of your deal over the phone, via text, or e-mail. In partnership with our finance team, your product specialist will go over your finance options, interest rates, payments, down payments, and loan terms. You can even purchase financed add-ons such as extended warranties, protection plans, and service plans remotely.
Paperwork & Offsite Vehicle Delivery
Once all your deal details have been finalized, we will sanitize and drive your new vehicle to you. We will bring the paperwork along for you to sign in the comfort of your home. Once you complete the paperwork, our product specialist will perform an onsite delivery and go over all the features you want to learn about on your new vehicle.
COVID-19 and social distancing may have made a significant impact on all our lives, but it does not have to impact your ability to buy or service your vehicle. If you have any questions about any of our at-home services, please give us a call at 770-625-8500.