What to Expect in 2020 INFINITI Cars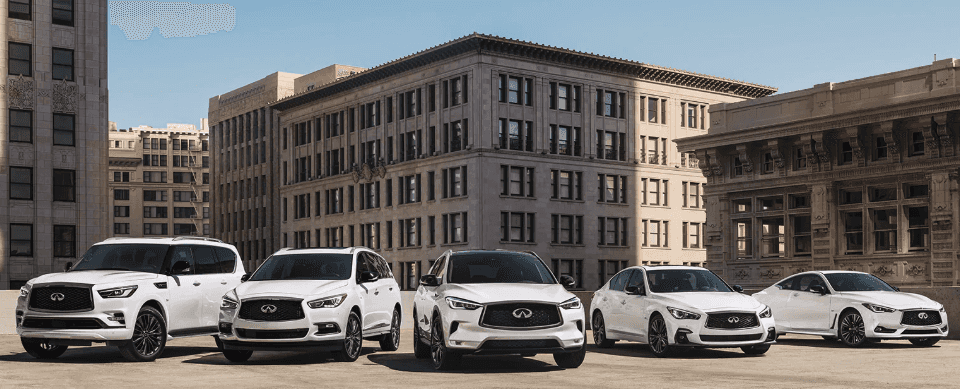 INFINITI is known for luxury at a different level. With customer service playing a central role in everything we do, we've gotten used to standing apart from other luxury car dealerships and manufacturers. And we're not about to stop the practice in 2020. 
The new 2020 INFINITI cars will bring all expected levels of excellence and prestige to the table while continuing to push the limits on vehicle design, technological innovation, and how we focus on our customers. Below are some of the top new features added in 2020 models that people have been clamoring for:
Forward Emergency Braking –This new feature can not only detect the distance between you and the car in front of you, but the speed as well. Additionally, the system can detect the movement of pedestrians directly in front of you. Should the system detect a potential collision, it will provide both an audible and visual warning. If you don't brake, the brakes will be partially or fully applied automatically. This incredible new feature will help you avoid frontal collisions.
Backup Collision Intervention –2020 INFINITI cars will allow you to back up with confidence with the backup collision intervention feature. This new feature detects any potential collision with large stationary objects or approaching vehicles. Should the system pick up a potential collision, the driver will be alerted with both an audible and visual alert. The system will even go a step further and automatically apply the brakes to avoid a collision.
Around View Monitor –The Around View Monitor provides you with a 360-degree view of your surroundings. Four cameras strategically placed around the vehicle provide you with a bird's eye view right from your display. The system also features advanced moving object detection, which alerts you to anything moving. The innovative, 360-degree technology makes parking easier than ever by allowing you to navigate even the tightest spaces.
Take a look at our inventory and pricing deals for the following 2020 INFINITI cars: 
2020 INFINITI QX80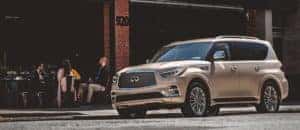 We're taking the full-size luxury of the QX80 and making it better than before with new IT system technology, a Bose Performance Series Audio system with 17 speakers, Lane Departure Warning, Apple Carplay, Red Door Alert, Blind Spot Warning, and Backup Collision Intervention. There's also an upgrade to the interior entertainment system customers can look forward to, with bigger screens and compatibility with Android Audio, Siri, and Google Voice.
You'll also be able to choose between two new exterior colors and revised interior accents. It's a beautiful vehicle but certainly packs a punch with its 8,500-pound towing capabilities. 
2020 INFINITI QX60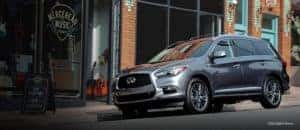 This top-selling model is coming back to continue to wow customers in the 2020 vehicle lineup. It fits 7 passengers but drives like a smaller vehicle with its powerful V6 engine, a 295-horsepower rating, and 270 lb-ft of torque. 
You'll be able to enjoy security and safety features on this model including Front Pre-Crash Seatbelts, Distance Control Assist, Lane Departure Prevention, Active Trace Control, Backup Collision Intervention, Intelligent Cruise Control, and Blind Spot Intervention System. 
2020 INFINITI QX50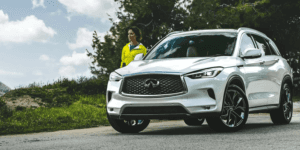 In 2019, this model received lots of upgrades that took it from the middle of the pack to the top of the pack. For the 2020 model, INFINITI is taking it up a notch from the 2019 success. The model will have two new grade levels: the QX50 AUTOGRAPH and the QX50 SENSORY. These will be added to existing levels (QX50 PURE, QX50 LUXE, and QX50 ESSENTIAL). 
Standard safety features and perks for all models now include Blind Spot Warning, Lane Departure Warning, Rear Cross Traffic Alert, High Beam Assist, and Rear Automatic Braking. The innovative combustion engine design also gets an upgrade to optimize efficiency and power. The QX50 also now has Apple Carplay!
2020 INFINITI Q50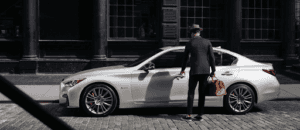 Owners of the new 2020 INFINITI Q50s are all going to enjoy the 3.0-liter V6 engine technology that used to be reserved for the higher grade levels. The 2020 Q50 will also be enhanced with the INFINITI InTouch System that comes with HD dual-display 8- and 7-inch touch screens and Apple Carplay. 
Choose from six different 300-horsepower models and two 400-horsepower models for 2020. 
2020 INFINITI Q60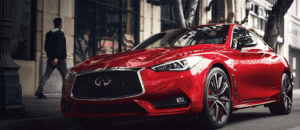 This striking 2020 INFINITI car also gets the InTouch System upgrade with the 7- and 8-inch touch screens. In addition, customers can expect a new IT system, Apple Carplay and new trim accent colors. 
Select a Q60 from the lineup of six different models: four different 300-horsepower V6 models and the 400-horsepower Q60 RED SPORT or RED SPORT AWD. 
2020 INFINITI New Car Model Showroom
Come check our models in the showroom and witness in person the power and luxury of INFINITI's new 2020 car models.