Certified Preowned Program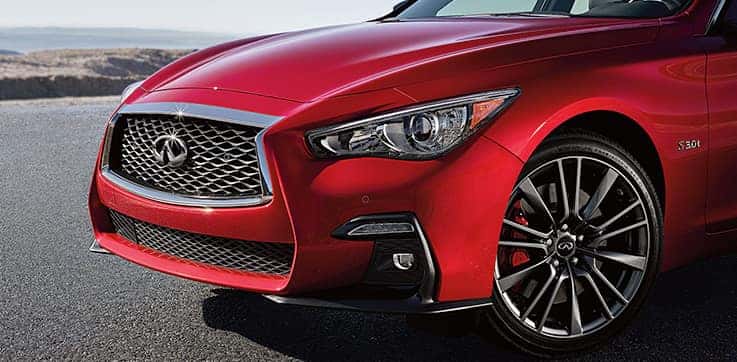 INFINITI Certified Preowned Overview
INFINITI Certified Preowned vehicles combine true peace of mind with the exceptional experience of owning an INFINITI at a preowned value. Confidence is enhanced through our certification process, which begins with a vehicle that was crafted to INFINITI's exacting standards, passed a rigorous 167-point inspect and includes a factory-backed, up to 6 years unlimited mileage warranty.
INFINITI Preowned | Exclusive Membership
INFINITI maintains exclusive requirements for certified preowned vehicles and we encourage the smart consumer to compare our criteria to other luxury manufacturers. In order to be eligible for certification, preowned INFINITI vehicles must meet the following criteria:
Less than 6 years from the original in-service date and under 70,000 miles
Clean title history and CARFAX Vehicle History Report
INFINITI Total Ownership Experience
Service and warranty repairs are available through over 200 INFINITI retailers nationwide. Each retailer is dedicated to delivering to INFINITI Total Ownership Experience, which is our philosophy and commitment to your satisfaction.
Benefit Summary
Up to 6 years unlimited mileage warranty [*]
Complimentary, first year basic maintenance [*]
Comprehensive, 167-point inspection
CARFAX® Vehicle History Report™
CARFAX® 3-year Buy-Back Guarantee
Free 3-month trial subscription to SiriusXM Satellite Radio [*]
Emergency Roadside Assistance [*]
Complimentary service courtesy vehicle [*]
Available INFINITI Elite™ Extended Protection Program
Vehicle certification

INFINITI Certification Process
Certification begins with evaluating a vehicle's history and INFINITI retailers are adept at utilizing multiple databases to confirm a vehicle's history. INFINITI's warranty database is researched to confirm warranty eligibility and the CARFAX database reviews over a dozen title categories before a vehicle moves to the next step for a thorough mechanical inspection.
Our Certified Inspection Checklist is the template utilized by trained INFINITI technicians to examine all major vehicle components. Our checklist covers over 167 items, including: engine, drivetrain, chassis, brakes, steering and suspension. We also require a thorough road test and an extra detailed inspection prior to listing the vehicle as INFINITI Certified Preowned.

Inspection
What exactly does it mean to achieve INFINITI Certified Preowned status? It means that a specially trained INFINITI technician has put this vehicle through our rigorous inspection process covering 167 features both inside and out. It must meet or exceed INFINTI's requirements or be excluded from the Certified Preowned program. An INFINITI Certified Preowned vehicle is a luxury vehicle you can depend on for years to come.
Buy with Confidence: Every INFINITI Certified Preowned vehicle comes with a complimentary CARFAX® Vehicle History Report™ and a 3-year CARFAX® Buy-Back Guarantee. You can view the CARFAX® Vehicle History Report™ of every INFINITI Certified Preowned vehicle in our inventory at no cost to you.
Based on information from more than 86,000 data sources, CARFAX® instantly generates a Vehicle History Report™ that may include, but is not limited to, the following:
Title information, including salvaged or junked titles
Flood damage history
Total loss accident history
Odometer readings
Lemon history
Number of owners
Accident indicators, such as airbag deployments
State emissions inspection results
Service records
Vehicle use (taxi, rental, lease, etc.)
CARFAX® also provides the 3-year Buy-Back Guarantee that reduces the risk involved in buying a preowned vehicle. For more information about the coverage, please visit www.carfax.com.

Roadside Assistance
INFINITI provides you with an emergency roadside assistance package for the duration of your CPO Limited Warranty.
Call (800) 225-2476 for 24-hour emergency roadside assistance.
For the duration of your limited warranty, a qualified representative will assess your needs and dispatch assistance with no out-of-pocket expense up to $100 for:
Battery boost (jump start)
Flat tire change (using your good spare)
Out-of-gas delivery ($5 maximum fuel)
Lock-out assistance
Towing Assistance
If your vehicle is disabled due to a MECHANICAL BREAKDOWN, the Roadside Assistance Representative will arrange for your vehicle to be towed to the nearest INFINITI dealership whenever possible, or to the nearest authorized repair facility. This coverage provides for towing cost not to exceed $100 per claim.
Additional Benefits
Car Rental Assistance — Receive reimbursement for car rental expenses up to $35/day, to to a $175/day maximum when you need to rent a car while your INFINITI is being repaired due to a failed covered complaint.
Trip Interruption — Reimburses you for meals, lodging and alternative transportation up to $500 if your vehicle is disabled due to a mechanical breakdown caused by a covered component and you are more than 100 miles from home.
For the duration of your limited warranty, a qualified representative will assess your needs and dispatch assistance with no out-of-pocket expense up to $100 for:
Battery boost (jump start)
Flat tire change (using your good spare)
Out-of-gas delivery ($5 maximum fuel)
Lock-out assistance
Extended Protection
Beyond the coverage of our Certified Preowned program, we offer the Elite™ INFINITI Extended Protection Plan. It provides the added security of:
Optional coverage of up to 8 years/unlimited miles [*]
$0 deductible for parts and labor for any covered repair
Transfer of benefits to new owner should you decide to part with your INFINITI
Expanded component coverage, including audio, navigation and mobile entertainment
Expanded Roadside Assistance and Reunite service, which covers the cost of reuniting you with your vehicle