2023 Acura TLX vs. INFINITI Q50: Which Is Best for You?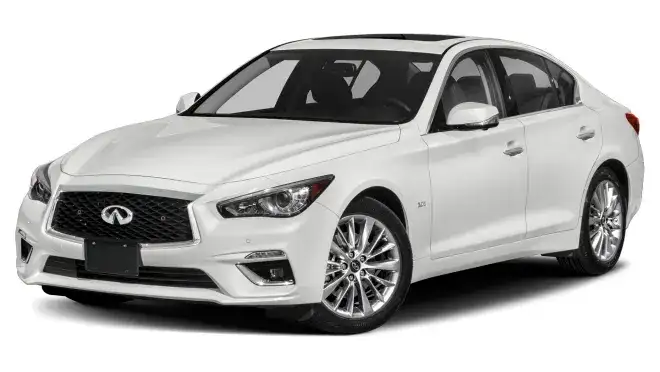 The 2023 Acura TLX vs. the INFINITI Q50: Both offer luxury experiences that make the road your playground. But before you take the plunge with your next big purchase, let's compare the two so you can determine the best choice for you. 
At First Glance
Just at a glance, the Acura TLX has a nice, luxurious look, backed up by front heated seats, Bluetooth speakers, and a lovely moonroof. 
However, the new INFINITI Q50 doesn't lack for amenities, containing each of those features and a 3.0L V6 Twin-Turbo engine, which leaves the Acura TLX's 2.0L I4 Turbo engine in the dust. 
2023 INFINITI Q50 vs. Acura TLX by the Numbers
| | | |
| --- | --- | --- |
| Acura TLX | vs. | INFINITI Q50 |
| From $39,650 | MSRP | From $42,650 |
|  2.0L I4 Turbo | Engine | 3.0L V6 Twin-Turbo |
| 272 to 355 hp | Horsepower | 300 to 400 hp |
| 280 to 354 lb-ft | Torque | 295 to 350 lb-ft |
| Automatic | Transmission | Automatic |
Luxuries and Amenities
When you pile into the INFINITI Q50 with your family, a dull, typical outing will be the last thing on your mind. With available soft, semi-aniline leather seats and rear armrest cupholders, the Q50 will leave your family feeling satisfied and safe. The dual temperature control means everyone can be comfortable.
The Acura TLX will comfort you with its ambient lighting, which you can control with the touch of a button. The Milano leather makes for cozy seating with the appearance of a sports car. You'll be riding in style no matter where you go. 
Safety Features
Since these vehicles are known for their speed and horsepower, you'll want to ensure you're safe when driving down the road. Brake assisting features, including automatic braking, mean you'll feel safe no matter what happens.
Vehicle safety is crucial to protect you and the ones you love. The INFINITI Q50 goes the extra mile with safety features, including an around-view camera as well as front and rear backup cameras. 
The Acura TLX also goes further than most regarding safety, incorporating an active lane keeping assist, knee airbags, and pedestrian detection. These features ensure the safety of those inside as well as out.
The Evolving Role of Technology
INFINITI and Acura understand how technology keeps changing to improve our lives. Both offer a free smartphone app that allows you to connect to your vehicle and access everything from the temperature settings to system alerts, ensuring that you know exactly what is happening at all times. 
Both vehicles provide an infotainment system, although only the Q50 boasts a touchscreen. They both offer tech features like Bluetooth connectivity, Apple CarPlay, and Android Audio. 
Reach Out to Roswell INFINITI Today
Both vehicles have different perks, but you'll never regret choosing the INFINITI Q50. It has superior horsepower and a safety system to match. The cool, sleek interior looks and feels luxurious, keeping things classy.
Interested in the INFINITI Q50? Who wouldn't be? Whether you're looking for a brand-new 2023 Q50 or a used Q50 from a previous year, Roswell INFINITI is where north Atlanta comes for luxury. If you're searching for something borrowed, blue, or absolutely anything else, shoot us a message, and we'll get back to you as soon as possible.